Imagine looking your best all day, every day! Permanent makeup is a wonderful concept that can accentuate and define your eyes, brows and lips. Wake up looking fresh, exercise without losing your brows and cry at the movies without your eyeliner running!
We have three fantastic Certified Permanent Makeup Artists to help you create the look you've always wanted. Microblading, Ombre, Shading, Nano Brows are various styles and techniques used to customize the style you are looking for. The possibilities are endless! Book with Lori, Magda or Jenna today!
Permanent makeup can benefit you if you:
Are allergic to cosmetics
Have sparse or light eyebrows
Have sparse or short eyelashes
Feel washed out without makeup
Have a vision problem that interferes with applying your makeup
Want to add a natural enhancement to your appearance
Want to minimize your daily makeup routine
Permanent makeup, also known as cosmetic tattooing or micro pigmentation, is a means of implanting natural pigments into the skin with a small, sterile, disposable needle to create a long lasting cosmetic effect. The pigments used are made specifically for cosmetic tattooing and are developed with the highest quality ingredients. They are made of mineral, iron oxide based colorants and are Health Canada regulated to keep them safe for public use. We adhere to strict steriliztion procedures and have your safety as our top priority.
Meet our Artists!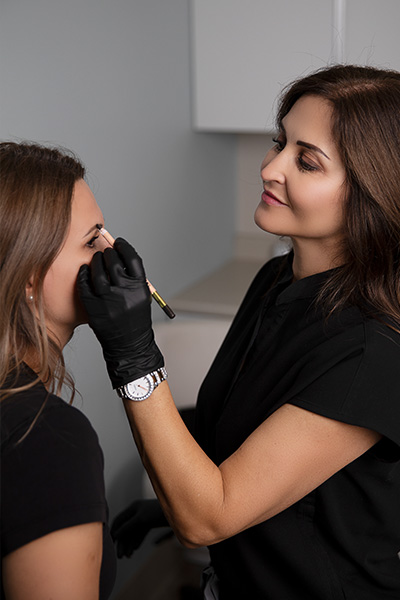 Lori is very skilled in the art of permanent makeup and is and has over 15 years experience. She is one of the most sought after permanent makeup artists in the area and is known for creating natural-looking results. She is highly recommended by her previous clients and receives many new referrals. Ladies from all over BC and Alberta and even as far away as Los Angeles, have come to have their permanent makeup done by Lori. With this highly specialized procedure becoming more and more in demand, you can be confident knowing you are in good hands and will have correct color application and an outcome that exceeds your expectations.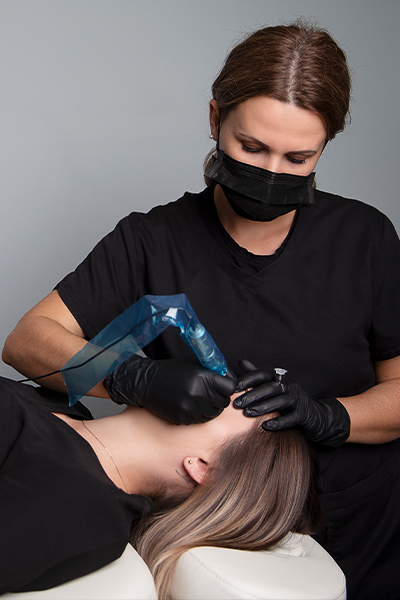 Magda is a trained makeup artist and has a kept up with the latest techniques in cosmetic tattooing. She is very thorough and professional in all she does and her clients trust her recommendations. Magda's passion for permanent makeup will ensure your comfort and satisfaction with every procedure she performs.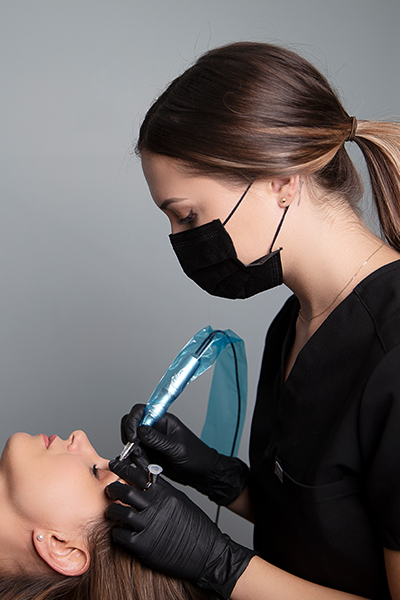 Jenna is a young and trendy Certified Permanent Makeup Artist and ensures she creates exactly what her clients desire. She has been assisting women with their beauty needs for 5 years and specializes in Eyebrows. The shaping of the brow is her forte, and she creates them with precision and symmetry. Jenna has a keen eye for the latest industry trends and will guide you to the look best suited to you.
---
Permanent Makeup – FAQs
Does It Hurt?
Topical anesthetics are used to numb the area. These are specifically made for micropigmentation procedures and are highly effective and greatly minimize any discomfort. We make every effort to enusre you are comfortable during the full procedure.
---
Is It Like A Tattoo?
Yes. It is a type of tattooing where pigment is placed under the surface of the skin by means of a tiny, sterile needle. We used needle configurations that are similar to that used on the body. The main difference between body tattooing and permanent makeup is, cosmetic tattoos are meant to enhance one's appearance and facial beauty and body tattoos are to beautify your body with ink. Pigments for cosmetics are soft, natural colours ideal for the face and body ink is often bright and vibrant to make a statement. The difference between microblading and cosmetic tattooing is it uses a hand tool vs a machine to create hair strokes in the brow.
Semi-permanent makeup is applied in the upper layers of the skin so it gradually fades as the skin exfoliates naturally. If you are hesitant to commit to cosmetic tattooing, we can create a semi-permanent tattoo using lighter pigment colours and a more superficial technique.
---
How Long Does It Take?
Each treatment varies, but on average it will take 2 hours. The most important and sometimes the lengthiest part of the procedure, is the design and choosing of the colors, both of which require approval by the client. Full lips, including lining, takes a little longer, we book 3 hours.
---
Will I Have Any Swelling?
After a permanent eyeliner procedure, you may have mild swelling around the eyes. The amount of swelling is very minimal. You may have mild redness along the lash line. This generally only lasts a day or two if any at all. You will not have any noticeable swelling after an eyebrow procedure. You will have mild swelling after your lipstick procedure that only lasts a day or two.
---
Can I Go To Work the Next Day?
After a lip procedure your lips may feel a bit swollen and tender for a few days and the colour will appear a bit darker initially. Some people will book this procedure on a Friday and return to work on Monday. Brows will appear darker in color for a couple days then soften as they heal but they will look beautiful immediately after your procedure. Eye procedures for both permanent eyebrows and eyeliner, are generally fine to go to work the following day unless you have mild swelling and prefer to take a day off.
---
How Long Does Permanent Makeup Last?
The treatment is permanent and will not wash off, however, it will fade over time. We recommend a yearly color enhancement to keep your permanent makeup looking its best. The length of time it lasts varies with the treatment area, the color chosen and the skin type. Darker colors will last longer. Many factors affect the color such as skin type (oily vs dry), UV exposure from sun or tanning beds, type of pigment used, technique or type of tattoo style done.
---
What Is the Cost?
Fees vary between $300 – $600 per procedure depending on the area and amount of time involved. The service requires 2 appointments. Your second appointment is done 1-3 months later. Please inquire about pricing on each area as there are many techniques and styles for permanent makeup, each requiring varying amounts of time and skill. We no longer include the second appointment in our initial appointment pricing. It is highly recommended to book your follow up appointment to allow the artist to see how the pigment healed in to your skin, check that the color and shape are perfect and ensure your permanent makeup lasts a long time for you. We require a $100 deposit to reserve your appointment for you. Our cancellation policy can be reviewed on our Spa Policies section under our "About" tab. The remainder of the service cost is due at time of service.
Keep in mind that this is not a service to decide on by price alone. It is important to look at all aspects of this procedure before you make your decision. Do you like the artists style and design? Is the clinic clean and safe? Are the needles and accessories sterile and disposable? Is the topical anesthetic used effective? Are pictures available of the artists work? What type of training did they have? We will answer all your questions so you feel confident and comfortable choosing North Okanagan Skin & Laser for your permanent makeup.
---
How Do I Schedule an Appointment?
A consultation will be done prior to the procedure at our Vernon medispa. Consult and tattooing can be booked as one appointment or separately. The process from start to finish will be explained to you and we will discuss your medical history to ensure you are a good candidate for permanent makeup. We will also discuss different techniques, choose a color and gather all the information you need to feel comfortable and confident with the procedure and complete the consent forms. We will also look at pictures together and discuss what shape or style will look best on you.